Repairs and Restoration
Eric began learning orchestral string and bow repair in 1987 under the tutelage of world-class violin maker, David Burgess (the most highly decorated violin maker in the history of the instrument). Since then, he has repaired and maintained the instruments of civic orchestras, school orchestra programs and individual virtuoso and amateur performers.
In 1991, to expand his repertoire and to service his own instrument of choice, Eric began learning guitar and bass repair at J.F. Naylor Guitars (now Reverend Musical Instruments). He furthered his skills taking technical classes from major guitar manufacturers and eventually became an "A" level authorized service technician for almost every major manufacturer of guitars worldwide. Over the next 15 years, he built his own repair business in the south suburbs of Detroit, Michigan, doing repairs for musicians from all over the continent of North America. His business closed in 2004 when he returned to the Bay Area. Recently Eric has reopened his repair business to Bay Area musicians and services all makes and models of stringed instruments, any level of repair.
Eric Hamilton is "A" Level Manufacturer Certified Repair Technician. He is recognized industry-wide by the following manufacturers:
Gibson, Fender, Martin, Taylor, Ibanez, Guild BC Rich, Jackson, Epiphone, Alvarez, Takamine, Larrivee, Ovation, OLP, Warwick, Pedulla, Alembic, Charvel, DeArmond, Gretch, Hammer.
Some clients included:
Elderly Instruments, Lansing MI – outside consultation and services
Guitar Center, nos. 331, 333, 335 MI – warranty repairs and customer service
Pyramid Guitars, Roseville MI – outside services
Michigan Musical Instrument services, Monroe – consultant
Anderson Music Co., Dearborn MI – school string programs, customer service
East Side Music, Roseville MI – school string programs, customer service
Central Music, Madison Hgts. MI – customer service
Amato Music, St. Clair Shores MI – customer service
Jerry Luck Studios, Roseville MI – customer service
A&R Music, Lincoln Park MI – school string programs, customer service
David Burgess fine violins, Ann Arbor MI – outside services
Gary Zimnicki Guitars, Allen Park MI – consultant, outside services
Great Lakes region – area collectors, private clientele (by appointment)
Gary Brawer guitar repairs – San Francisco – customer service
Countrywood Music – Concord – customer service
Exploring Music – San Francisco – customer service
Major Music Supply – San Francisco – quality control
Aloha Warehouse – San Francisco – quality control
Reverend Musical Instruments (J. F. Naylor Guitars) – Head Guitar Technician
Shar Products Co, Ann Arbor – Orchestral Stringed Instrument and Bow Technician, Showroom manager
Letters of Recommendation
"Since 1996 Eric Hamilton has been a valued provider of Fender Authorized Service. Eric's above average Lutherie skills on both electric and acoustic stringed instruments have earned him a Fender Gold Level Technician Certification, our highest level of recognition. Eric has further distinguished himself by showing complete attention to the service needs of the FMIC consumers and for operating his business in a very professional manner. I would recommend Eric Hamilton to any consumer or prospective employer enthusiastically without hesitation. If you have questions or comments concerning Eric do not hesitate to contact me."
Don Wiggins – Service Support Manager
Fender Musical Instruments Corporation
"Eric Hamilton has worked for me from July 91 thru September 93. I have found Eric to be exceptional in the quality of his repair work on any type of electric or acoustic stringed instrument. Having studied under the master violin maker, David Burgess, Eric carries with him the time honored traditions of the great master instrument builders, as well as employing current repair technology for todays demanding musicians. I have always found Eric to be dependable, efficient, and dedicated to his work, as well as enjoyable to work with. Eric would be an asset to any repair facility because of his professional skills, high standards and attitude."
Joseph F. Naylor, Luthier
J.F. Naylor Guitars
"Eric Hamilton has been doing instrument repair work for Elderly Instruments as a sub-contractor since 1993. This work has covered a wide range of repairs, on a varied group of instruments. Many difficult and demanding jobs have been performed just as requested, with excellent results. Service is prompt, as Eric is organized, and easy to work with. In short, Eric is a professional."
Joe Konkoly, Manager, Repair Shop
Elderly Instruments
"I am pleased to recommend Eric Hamilton as a valuable asset to any repair organization. Eric made significant progress and contributed to our overall effectiveness during the period that he worked for Shar Products. Eric was well liked by his colleagues in the repair shop as well as those in other departments. We would most certainly welcome him back in the future if he chose to return to Ann Arbor."
Charles Avsharian, President
Shar Products Company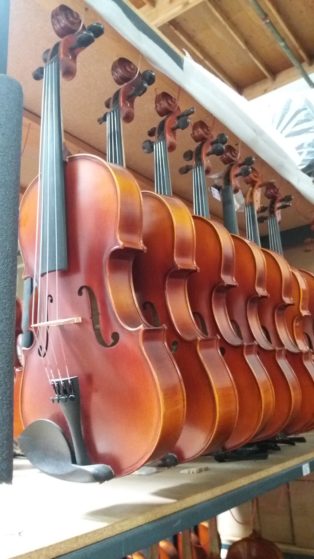 Authorized Warranty Service Technician
('A' level) for the following manufacturers
(contact personnel as of 2004)
Fender (Don Wiggins)
Guild (Fender product support)
Ovation/Hamer USA (John Budney)
Gibson (Rame Eskridge)
Jackson/Charvel (Fender product support)
Warwick Basses (Rob Busch)
Martin (Mike Dickenson)
Epiphone (Rame Eskridge)
Gretsch (Fender product support)
Taylor (Terry Myers)
Hamer Import (David Calevrly)
Pedulla Basses (Cust. Svs.)
Earnie Ball/Music Man (Dan McPherson)
B. C. Rich, Dan Electro, OLP (Tim Keys)
Washburn Guitars (Jim Wiora)